Furniture Designer/Artisan
Scott Johnston

818-708-3744

ABOUT THE COMPANY


The Wood Extension

has been Designing, Creating and Hand-Crafting

Fine Custom Furniture since 1977

from Old World to Contemporary, utilizing old and new skilled techniques, fabricating in Wood, Metal, Stone, Glass and Ornamentation; and

Specializing in TV Lift Furniture since 1991

. Working with Audio Video Specialists, Lift Manufacturers, Distributors of TV Lift Furniture, Architects, Interior Designers, Contractors, Project Managers, Developers and my Personal Clientele,

has greatly diversified experiences expanding knowledge and understanding,

for producing successful custom furniture projects.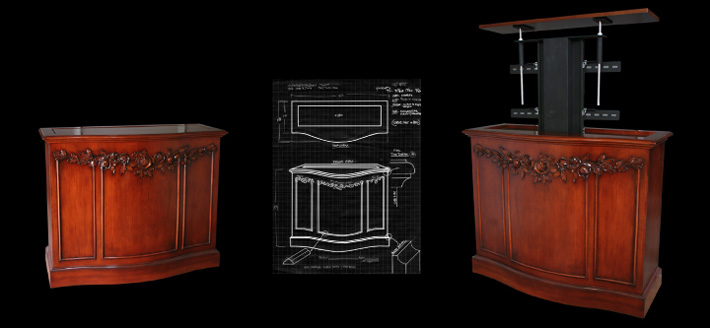 THE WOOD EXTENSION
Has always responsibly purchased wood products from renewable and sustainable resources

Wood products are FSC & NAF compliant

Finishes & Adhesives are VOC & CARB compliant

By-products are recycled

Continued goal is to support & promote

Green Compliance

to improve our environment and indoor air quality
COMMUNICATION IS THE KEY
LISTEN to CONCERNS
ASK a lot of QUESTIONS
DISCUSS all IDEAS
ATTENTION to DETAILS
PROVIDE DRAWINGS
PHOTOS in PROGRESSION
SERVICE with COMMITMENT
ARTIST'S STATEMENT
Since I can remember, I have always been involved in the arts. Whether it be drawing, painting, sculpture, jewelry or woodworking, I attain great pleasure and satisfaction working with my mind, heart and hands.
I have built a reputation on a lifetime-passion of designing and creating. I pay meticulous attention to detail, in order, to preserve the integrity of all the art elements, so that I may provide excellence in craftsmanship quality, without compromise.
By being aware and familiar of my surroundings, in my everyday life, lends a sensitivity of understanding others personal needs, wants and desires. I always have my clientele's personal interest at heart and the memory of tradition still at my hand.
My continued education encompasses a realm of endeavors such as seminars, (attending and instructing), assorted trade mediums, books on technical craftsmanship and collecting classic books on philosophies of design. Also, travel allows me to experience old architecture and furnishings, while exploring the new. And, my most passionate source of learning is from Master-Craftsmen, consumed with an abundance of knowledge, which is shared freely just for the asking.
A formal educational background is only a foundation, for the continued self-taught theories of one's profession. Therefore, all of my educational endeavors assist in producing successful projects.
So, it is with my humble pride, that I seek your confidence and trust, by handcrafting, signing and dating each creation made just for you. I am completely committed and devoted to each custom made furniture project for a pleasant experience.
The Wood Extension
Furniture Designer/Artisan,
Scott Johnston
Personal Note: As I review and update my website, from time to time, I realize, that now, I am sharing the knowledge, I have accumulated throughout the years. I guess I'm getting older, and that, too, is OK!
THE WOOD EXTENSION'S SERVICES - PUBLICATIONS - SHOWCASES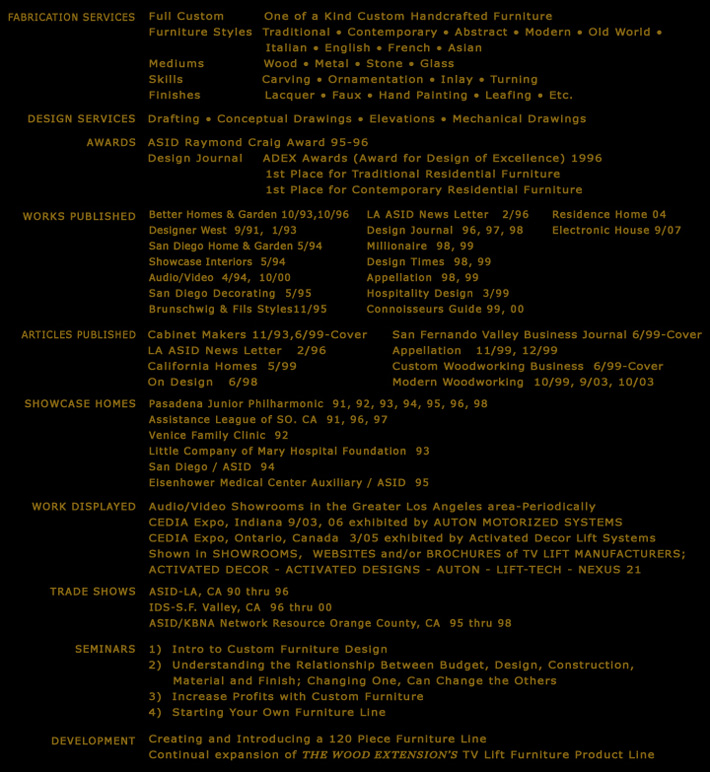 VIEW THE WOOD EXTENSION'S WORK ON THESE WEBSITES
ARTSY HOME.com - FINE WOOD ARTIST.com - HOME PORTFOLIO.com
CUSTOM MADE.com - FURNITURE SOCIETY.org - LINKEDIN.com
PAST and PRESENT CLIENTS
Walt Becker
David Beckham
Leonard Chapman
Jim & Jeanne Pankow
Paul & Martine Verhoeven
Howard Bragman
CBS Dr. Phil House Show
CSUN University Club
Desert Horizon Country Club
Marriott Hotel
UCLA Neurology Department
Activated Designs - Clients
Auton - Clients
Lift-Tech - Clients
Nexus 21 - Clients
Activated Decor